The 2nd Distributor Summit held at the Adam Hall Asia Showroom in Singapore, saw larger participation compared to the first edition, amidst a positive vibe both from attendees and Adam Hall personnel.
The day before the Summit, Adam Hall held a welcome dinner for the participants at the lusciously green Buzz by Myra's restaurant at Phoenix Park. This hidden gem that blends nature with food and beverage and located close to the heart of the city made for a great evening of merriment. It certainly got a thumbs up by all present and was a great way to get ready for serious business the next day.
Held on 24th August, the one-day Summit was attended by 50 participants from 21 companies representing 15 countries. The Summit kicked off with a brief introduction by Markus Jahnel, COO, Adam Hall, followed by Chandan Mahtani, MD of Adam Hall Asia. LD Systems' Product Manager, Viktor Wiesner then presented the top selling models for LD systems, followed by a product demonstration. Viktor also previewed solutions that the company was working on to whet the appetite of the attendees. The previewed solutions are targeted for release at Integrated Systems Europe 2019.
In the region the best sellers have been The MAUI, CURV and the STINGER series from the LD Systems portfolio.
One piece of information caught the interest of the attendees.
The MAUI P900 systems that are designed by Porsche Design Studio will finally be hitting the market. Interesting to note is that the first order is bound to Asia.
Vinod Kumar, Product Specialist, Adam Hall Asia, took over to present the Cameo lighting solutions and took time to touch on the control of Cameo lighting fixtures through the iPad software, making it easy to control the fixtures on the fly. A sumptuous spread for lunch was followed by presentations from Robin Henlich, Product Manager, Adam Hall, on Gravity and Palmer solutions. The evening ended with a motivational presentation on "Driving Greater Revenues via the Value Selling Framework", followed by cocktails.
Lively interactions, sharing and discussions together with the product demonstrations
ensured that the Summit not only helped to communicate about Adam Hall solutions and future plans but it also built on a common Adam Hall family identity and belonging amongst those who attended.
Adam Hall was obviously pleased with the effort put in by the distributors to attend the Summit. "It is nice to have our distributors come together. It is more than just sharing what we as a company are doing. The summit gives our distributors the opportunity to exchange ideas, learn and interact with each other and that is an integral part of our Summit. Having said that, participants also shared with us suggestions in relation to our solutions which helps us to look into possibly implementing those suggestions. They are on the ground interacting with clients and we value their feedback," said Chandan.
It is no surprise that since the establishment of the Asian operations in Singapore, there has been steady growth with new markets opening for Adam Hall. "Adam Hall was an unknown entity in Vietnam till 3 years ago. Now with our distributor in Vietnam, we are happy to share that our brands are not only accepted but also preferred," said a pleased Chandan.
Adam Hall Asia has also appointed new distributors. For CAMEO lights, Lighting & Sound Distribution has been appointed as distributor in Singapore. Also appointed recently were Pavostore Pte Ltd in Bangladesh, Key Components Pte Ltd in Fiji and Boodles Trading in Nepal for all the brands under Adam Hall.
DHT VietNam International Technology Company Ltd, is so confident of Adam Hall solutions, that the company recently opened an Adam Hall showroom in Hanoi. "We have had good response to our showroom which is about 100sqm in size. We also have an outdoor area at the back of the office that helps us demo the bigger speakers. Response has been very positive. The showroom allows our partners and clients to listen to the solutions before making their decision," said Pham Phuong Anh, who is responsible for marketing at DHT.
Another participant at the summit, Adnan Nazir Chaudry, CEO of Brand Matrix from Pakistan highlighted that the company, based in Lahore, has been representing the full range of Adam Hall solutions for two years.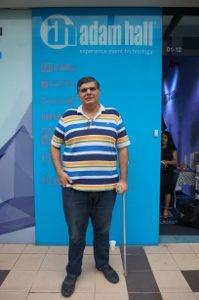 "We see a bright future. Adam Hall has a diverse range of solutions that enables to market their products to a range of segments. One thing we are most impressed with are the accessories that Adam Hall manufacturers. They are made with ease of use in mind and I feel this is a big advantage for us."
Pressed on which segments have been doing well, Adnan shared that the Installation and Live event segments have seen positive growth for the company in Pakistan.
Another participant at the event was Siam Music Yamaha who also incidentally started to represent certain ranges of Adam Hall's LD speakers and Gravity solutions two years ago. "As
Yamaha too has a range of speakers, we only represent certain range of the LD speakers that do not compete with Yamaha solutions. Yamaha also is in the Musical Instruments market and Gravity makes complete sense for us to represent," said Suthinee Sutthintiwong who is responsible for Marketing.
Adam Hall's decision to set up an Asian operations is certainly paying off. "Being in close proximity to our distributors and the region is certainly a plus point for us. We hope to sustain and continue our growth in the region. There are still plenty of opportunities and we believe our range of solutions, the quality of our solutions and the strong support provided will help us with our growth plans together with our partners," concluded Chandan.