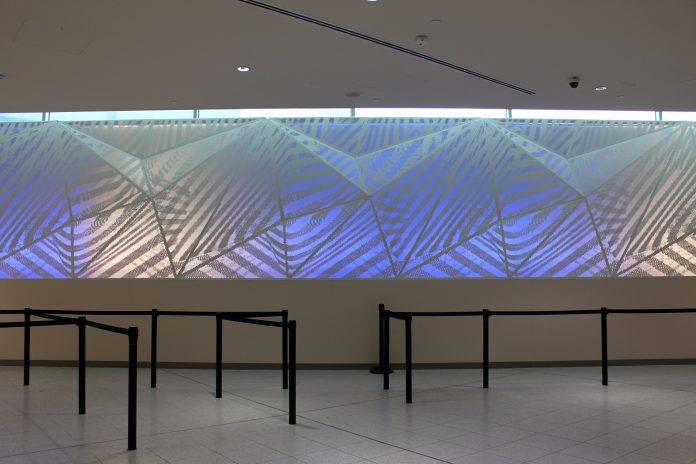 U
LA Group is part of
Britt Salt
's brilliant new artwork – Traverse, which was revealed at the
Melbourne International Airport
, in Australia.
Their team worked closely with Ramus Illumination, who specified LED lighting technology for this project, to highlight the unique artistic features of Britt Salt's masterpiece. Britt Salt talked about her creative work and provided background to this unique project:
"My work hovers between art and architectural practice, often employing elements of repetition, transparency, impermanence and movement to experiment with notions of space."
"I create spatial propositions that incite audiences to question how they perceive and understand their surroundings. Traverse was developed through a series of conversations and engagement with the nature of the international terminal and in particular, the security hall. This transient space sees a constant flow of people and was identified by APAM as a high stress zone."
"As such, there was an opportunity to transform commuters' experience of the security hall by integrating an artwork that would offer calmness, interaction and innovation."
Traverse is a powder coated aluminium original structure, attached seamlessly to the wall at the Terminal 2 of Melbourne Tullamarine International Airport. It covers the area of 14m length and 2.4m height.
The Ramus Illumination team specified 15 x Acme lighting ColorBar Multicolour LED
fixtures to be permanently mounted behind the structure, providing outstanding colour mixing effects for the unique art.
"A surface of undulating folds are built into the wall and mirrored by a dynamic perforated pattern that makes protrusions in the artwork look like valleys and vice versa. Shifting light within the wall both accentuates and blurs the distinctions in the artwork. The colours gently change throughout the day and night to reflect the qualities of light in the exterior environment."
"As passengers move through the security hall, the artwork appears to warp and change, creating optical effects and an unexpected experience of the space," explained the artist.
Ramus Illumination team was again engaged for programming and final commissioning of the unique project.