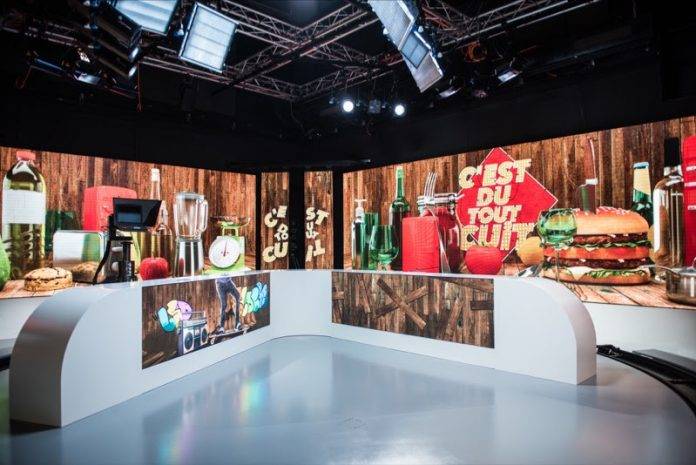 Demonstrating how its digital display solutions can be applied to a sophisticated broadcast media environment, Absen has found itself at the heart of a major upgrade to the studios of TVP SA, a key regional broadcaster in the Jura and Neuchatel areas of French-speaking Switzerland.
Established in 1990, TVP SA creates cutting-edge, customised media solutions.
Its broad portfolio includes Canal Alpha – a TV channel broadcasting daily news, sport and general magazine shows which it operates from studios based in Cortaillod, Switzerland – reaching an audience of 60,000 each day.
About 90% of the productions developed in the studios are for Canal Alpha, but they also play host to companies looking for a state-of-the-art facility in which to film their own productions.
TVP SA was seeking to replace its dated 55-inch LCD video wall screens with LED technology in a major upgrade of the whole studio. As TVP SA Director and Partner Marcello Del Zio discussed:
"LED walls allow us to implement a very simple scene change – creating more dynamic environments for our shows. A large image surface is a crucial element, since the respective scene can be surrounded by digital images as a whole.
"We were already well aware of Absen because of their presence at trade fairs such as NAB and IBC – and when we discovered that local specialist integrator Telion was an Absen distributor, it made it easy for us to gain access to the products as well as local support and advice."
Stephan Hartmann, Department Manager, Prof. Video & Consumer Accessories at Telion, reflected on why Absen was chosen for the installation: "LED was the preferred technology because of its flexibility but also the narrow depth of the screens which save valuable space where it is at a premium in an environment such as this. Together with the client, we evaluated several LED manufacturers through a series of demonstrations, test shoots and a visit to ISE."
"In the end, we selected Absen because of the 12-bit colour processing, the high refresh rate, and the attractive price-performance ratio."
With quality of content a primary concern and point of differentiation for broadcasters in today's competitive media environment, the Absen screens elevate the capabilities of the studio and make the content filmed there stand out from the crowd.
At the heart of the new studio set up is 62 sqm of Absen N3 screen panels which make up the impressive LED backdrop and corner columns at the walls, while 6 sqm of A2725 screen panels are set inside the studio tables.
Content is fed to the screens from a true 4K video server (12 bit 4:4:4, 60hz) and the screens are controlled by 18 Novastar MCTRL660 controllers supporting redundancy.
Part of Absen's N series of indoor LED display screens, the N3 is a smart and slim flat panel design which is perfect for a fixed installation environment such as the studio.
Features contributing to the excellent image quality it offers include an extra-wide 160 degree viewing angle, A3C Absen 3rd Generation calibration technology for high uniformity and smart monitoring which eliminates the need for additional monitoring cards.
Meanwhile, the A2725 – a standard 27.5-inch screen – also offers outstanding image quality with high brightness and contrast, as well as the peace of mind that comes with intuitive operation.
The installation team comprised the studio staff themselves, who carried out the overall construction and mounted the screens – with technical support on site from Telion and Absen technicians for 7 and 3 days respectively in order to ensure they were correctly configured.
The process was challenging – as Del Zio explained: "Due to the complexity of our installation and the interaction with the many other technical systems in the TV studio, we developed a large part of the concept ourselves. However, Telion and Absen provided us with all the necessary information in good time, and their participation in the final calibration to ensure everything worked perfectly was invaluable to the successful completion of the project."
Now equipped with the very latest in digital screen technology, TVP's stand-out studio facility future-proofs the company in the face of a rapidly advancing broadcast media landscape – and Del Zio and his team are delighted with the result:
"We are very satisfied with the quality of the products and the support we received – and wouldn't hesitate to recommend Absen to others."
Alex Couzins, Head of Brand and Marketing at Absen Europe, concluded: "We are thrilled to have worked with Telion on this significant upgrade project to TVP's studio. The main challenge was to find an LED solution that would be able to meet the requirements of a broadcast environment, with enough brightness and contrast to help content stand out in a studio environment, while providing a high refresh rate to allow viewers to experience ultra-HD and 4K content."
"With our innovative and adaptable range of products, we were able to provide a bespoke solution to do just that – and all for a highly competitive price point. We are very happy to hear that TVP is so pleased with the result."