With an area of 70,000 sqm featuring a collection of more than 2000 international fashion and luxury brands, TSUM Moscow is arguably the largest fashion department store in Russia.
The store was founded in Saint Petersburg in 1857 and moved to its current location, Moscow's Teatralnaya Square, in 1908. The 6-story Gothic Revival style building is more than a century old and the TSUM Department Store has undergone many renovations to meet the needs of modern customers while preserving the charm of its historic façade.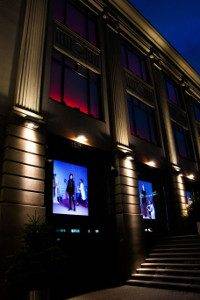 It was refurbished in 2017, and the visual solution for the showcases was part of the refurbishment.
To boost customer experience at the high-end store, innovative digital technologies like LED display became an optimal choice for TSUM due to their wide range of possibilities of delivering creative solutions and ability to engage customers.
A leading Russian distributor and system integrator of professional AV equipment, AUVIX selected Absen LED to jointly develop and integrate the high quality digital signage solution for TSUM.
In total of 35 customized LED screens were installed in 35 showcases to play video content such as clips of fashion shows and commercials of the brands.
"Since the Moscow Government regulated that the allowable size of LED screens mounted on the building's façade is half of the windows, we tailored a display solution with Absen P2.5mm LED product featuring slim and sleek design", said Sasha Liu, Sales Director of Absen in charge of CIS markets, "the system is able to match the overall architectural style of the building and add modern elements to the retail space".
"To meet the requirements of high definition and high brightness, we also increased the
brightness to 2,200nits from the standard 1,200nits with no increase in power consumption", added Sasha.
"More than that, we designed a special steel structure so that each panel could move on the rails in the safest way during maintenance; and behind the display is the cooling system, ensuring safety of the whole system".
Recently they added red bowknots on to the surface of the building. With the existing integrated striking visual system, the whole building dazzles against the Russian sky.