The LG ID Showroom in Singapore has been transformed into a total solutions space. LG partnered with Extron, Bose and Logitech to deliver an immersive experience in the next-generation digital transformation of workspaces and public spaces. To commemorate the space, LG and its collaboration partners held an open house on 25th July that saw a mix of SIs and consultants gracing the event.
Guests were greeted by a large 4×3 LG Video-wall display featuring 0.44mm bezel, with audio provided by two Bose MSA12X steerable column array speakers and video processing done through the Extron Quantum Ultra. All finger-tip controlled by an Extron 17" control panel. The same control panel and Quantum Ultra videowall processor were also used to control a 2×2 wall as well as an indoor LG LED screen. This space is meant to showcase solutions for a town hall, convention room or an auditorium.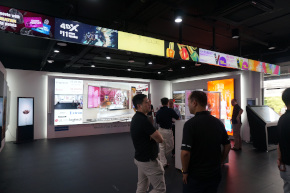 A small tighter space meant to resemble a Huddle room showcased an LG display with a Logitech Meetup solution and zoom conferencing software.
Mimicking a larger video collaboration space was an LG Interactive Digital Board with a Logitech Rally kit incorporated into the area.
LG also took the opportunity to showcase its 1.5mm pixel pitch indoor LED, which is meant as an alternative to a traditional 2×2 video wall. Complementing the LED were Bose Edgemax speakers. The idea with the space is to show alternative displays for the Boardroom.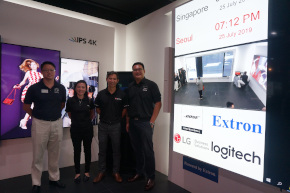 Tony Ang, Sales Director, Enterprise Business, LG Electronics Singapore, highlights that the objective was to showcase integrated solutions for workspaces.
Tan Yew Seng, Sales Engineer at Bose Corporation, adds "By incorporating the various solutions into a working model, we are showcasing complete solutions. This showroom enables us to showcase to end-users how we can create a seamless experience for them."
Daniel Poh, Asia Sales Director at Extron Electronics, highlights that the drivers for the different brands have been incorporated to enable Extron solutions to control them. "This space showcases how the different brands and solutions are integrated seamlessly to offer end-users a workable and user-friendly solution for different needs."
LG's OLED display, IPS transparent display and various-sized displays for signage were also on showcase.
www.lg.com/sg/business
www.extron.com
pro.bose.com
www.logitech.com