If you are heading up to InfoComm in Orlando, USA, we have prepared a quick read of some of the solutions that will be on showcase. We have placed the brands in alphabetical order with each brand taking up a paragraph. We hope you will find this approach efficient. Of course the breaking news is Audinate's Dante-As-Software approach which is intended to help manufacturers and developers to deploy Dante capabilities quickly. A few weeks time Beijing InfoComm China will be taking place, and we will very likely get a pulse of how the industry is moving in the country. Generation AV, a new company, based in Singapore and heralded by a well-known figure in the region, David McKinney, has kicked off firmly by taking up responsibility for Martin Audio within APAC.
Thomas Richard

Editorial Director
Audinate Introduces Dante-As-Software Products for Manufacturers and Developers
Supporting the AV industry's shift from purpose-built hardware to software-based solutions running on standardized hardware, Audinate – developer of the industry-leading Dante AV networking technology – has announced two new software-based Dante products. Dante Embedded Platform enables manufacturers to add full Dante functionality in software running on Linux for x86 and ARM processors.
InfoComm 2019: Quick Read.
AIMS — the Alliance for IP Media Solutions — will be at InfoComm to promote the adoption of open standards for video and audio in the pro AV market. Front and center will be the SMPTE ST 2110 suite of standards for transporting video, audio, and data, which is already in use and deployed by the media and entertainment …

Beijing InfoComm China 2019 Brings The Future Closer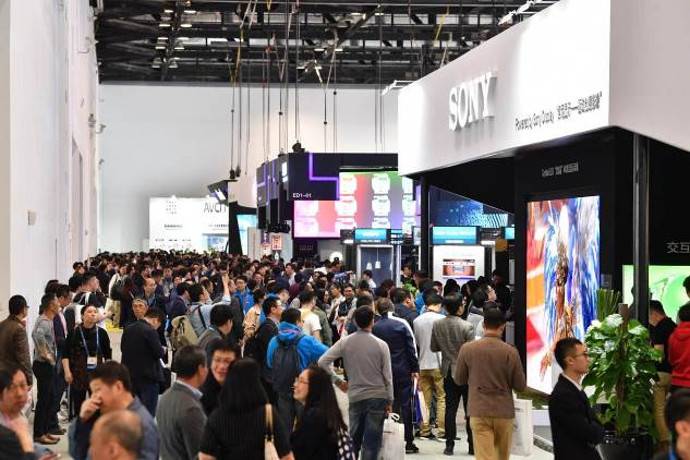 The 11th Edition of Beijing InfoComm China will be held at the familiar China National Convention Center in Beijing, China, rescheduled to 17 – 19 July 2019. This year's edition will rise to the next level with the presentation of many future-ready and innovative pro-AV and integrated Experience solutions from local and international providers, many of whom will be …

Singapore's Generation AV Takes Responsibility for Martin Audio in APAC
Martin Audio has announced a significant investment in sales account management for Asia Pacific as its business continues to grow rapidly. With immediate effect, Generation AV, based in Singapore, will assume sales strategy, account management and technical support duties for the Asia Pacific territory, reporting to International Sales Director, Brad Watson. Generation AV is a new company set up by …

QSC Opens New SAARC Headquarters in Bengaluru, India
QSC is celebrating the inauguration of its new SAARC headquarters in Bengaluru, India. The new office is 9,270 sq. ft. and serves as a business development, management and support hub for QSC Systems, Live Sound and Cinema businesses in the region. It also serves as a dedicated training and demonstration area and includes a 13,760 sq. ft. terrace space for …
Appointment: Audinate CTO and Co-Founder to Succeed as CEO
Audinate has announced that Aidan Williams, the Company's CTO and Co-founder, will succeed Lee Ellison as CEO. Ellison has informed the Company of his intention to retire from his role as CEO on 13th September 2019 following release of the Company's 2019 full year financial results. Audinate's Chairman David Krall said: "Lee has been a key contributor to the growth …

Barco Collaborative Space: The Place of Future Education
It's widely agreed that to effectively equip students for the future, Higher Education needs to flip the classroom and adopt more active learning styles. Educators across the globe are taking steps towards more active learning. Active learning encourages more engagement. By working together and collaborating, students can fill in gaps in their knowledge, develop essential skills for the future and …
Adam Hall Group's Announcement of CTO Sets the Course for a Digital Future
Andreas Modschiedler has been named new Chief Technology Officer (CTO) of the Adam Hall Group as of June 1, 2019. In the newly created management position, the 46-year-old will strengthen the executive board and be responsible for IT and Research & Development (R&D). The step sees the event technology solutions manufacturer, the Adam Hall Group, dovetail its customer-driven R&D …
Dicction is Exclusive Distributor for Christie LCD projectors in China
Christie has appointed Dicction as the exclusive distributor of its LCD projectors for the Chinese market. Headquartered in Beijing with branch offices located over 20 major cities across China such as Shanghai, Wuhan, Nanjing and Xi'an, Dicction has rapidly established itself as a leader in providing the audio-visual industry with innovative solutions and products since its inception in 2016. …