Issue 161: November 21, 2018
Investing in human health – definitely a worthy cause and an interesting advantage to gain over your competitors. This however is not some ingenious scheme but rather a concerted effort to ensure users' health are not affected by technology – especially true for those using BenQ's Interactive Flat Panels (IFP). There were, of course, the usual specifications to be met but what bowled me over during the recent showcase was the additional technologies put into the manufacturing of the IFP solutions. These included creating a germ-resistant touch panel, a smart eye-care technology that lowers the blue light and flicker when you are close to the panel and the latest - a CO2 monitor that alerts users if the CO2 level in the room is unhealthy. Simply impressive.
Thomas Richard

Editorial Director

BenQ Unveils Suite of Integrated Display Solutions to Foster Enhanced Collaboration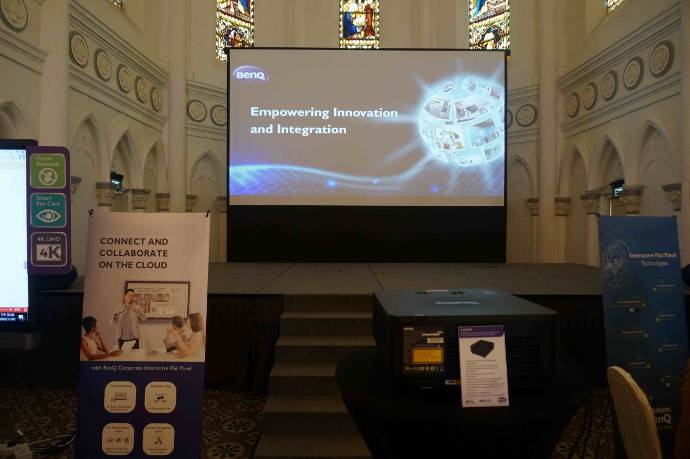 BenQ, an internationally renowned provider of visual display solutions, has introduced a myriad of new solutions aimed at fostering collaboration. Of the new offerings is a full line-up of Dustproof Laser Projectors that include 4K, Short Throw, Ultra Short Throw and Fixed Lens models which are suitable for different corporate or educational settings.
ClearOne Debuts "VIEW Bucks" Promotion
In true holiday spirit, ClearOne has announced the launch of an exciting new holiday promotion offering customers dollar-for-dollar free credit with the purchase of any products in the VIEW Lite line. The free credit offer is good toward the purchase of all ClearOne products including their new CONVERGE Pro 2 VT SKUs, CONVERGE PA 460 Amplifier, Ceiling Mic Array Analog-X, …

AVIXA Announces 2019 Board of Directors, Leadership Search Committee Members
AVIXA, the Audiovisual and Integrated Experience Association, has announced election results for the 2019 AVIXA Board of Directors and Leadership Search Committee (LSC). Jon Sidwick, Global Senior Vice President of Maverick AV Solutions, has been elected Secretary-Treasurer of the Board by AVIXA membership.

Maverick AV Solutions Appoints Industry Big Hitter to Head Up Australian Expansion
Maverick AV Solutions has introduced Andrew Upshon as the new Business Unit Director for the Australian and New Zealand regions. Andrew will be based in North Ryde, New South Wales. As part of Maverick's drive to bring the company to a global market, Andrew will work with its established network of vendors to establish Maverick in Australasia.
E&E Group of Companies Officially Launch New Experience Centre and TOWN HALL@289
Electronics & Engineering Pte Ltd (E&E) has announced the official opening of their E&E Experience Centre (ENEXC) and TOWN HALL@289 which is housed in an iconic building, in Singapore, at the distinct corner of Outram Road and Seng Poh Road. The launch event was attended by partners and clients including those from Hong Kong, UK, Myanmar and the US.

Arena of Stars Upgrades with L-Acoustics K2 System
Arena of Stars is one of the most established venues in Malaysia located within Resorts World Genting (RWG). The resort stands majestically at 6,000 feet above sea level, on a tropical jungle that is 130 million years old. It is also one of Malaysia's most popular tourist destinations with nearly 24 million visitors in 2017.

PAVE System Holds Outstanding Event for Customers
Themed as "LIVE" ON DIGITAL, the full day event took place on 9th November at The Summit Auditorium & Studios venue in Singapore. Targeted at PAVE's customer base and in keeping with the theme, the solutions showcased and demonstrated were in the digital realm.
Augmented Reality Pioneer to Give Opening Address at ISE 2019
The Opening Address at Integrated Systems Europe 2019 will be presented by Ambarish Mitra, co-founder and CEO of augmented reality (AR) technology company, Blippar. He will discuss how augmented reality and artificial intelligence are disrupting key vertical sectors served by the professional AV industry, and what future developments are likely to bring.

Keppel Land and Habitap Unveil Singapore's First A.I Powered Smart Home Management System
Keppel Land, one of Asia's leading property companies, and Habitap, Singapore's leading smart living platform developer behind Asia's first fully integrated smart home management system, have unveiled Singapore's first smart home powered by artificial intelligence (A.I.).
New Distribution for Huddle Room Technology in Australia and New Zealand
Huddle Room Technology (HRT) is the maker of Huddle Hub One, the first multi-session wireless presentation system in the industry supporting up to 4 concurrent sessions on the same hardware. Huddle Hub One supports both legacy-style (device to display) for traditional meeting rooms use and an unprecedented BYOD scenario.