Issue 154: August 8, 2018
Integrate takes place from the 22 - 24 August, at the ICC in Sydney. This is the 10th edition of Integrate and visitors can expect celebratory events during the exhibition.
Also scheduled are a range of educational programmes as well as Integrate Speaker Series that touches on a number of hot-button topics. There is also the Integrate LIVE Theatre that brings thought-leaders and game-changers in the industry to share their knowledge, insights and developments in live entertainment technology. With so much to do, we are sure visitors will find the exhibition of good value.
Thomas Richard

Editorial Director

Integrate to bring biggest event yet to ICC Sydney
With only two weeks to go until Australia's ultimate event in sight and sound gets underway, Integrate is set to present its largest showcase yet of emerging interactive technologies with its return to the heart of Sydney's CBD. Over recent years, Integrate has become Australia's go-to event to find the latest innovation and technology for key industries.
Barco at Integrate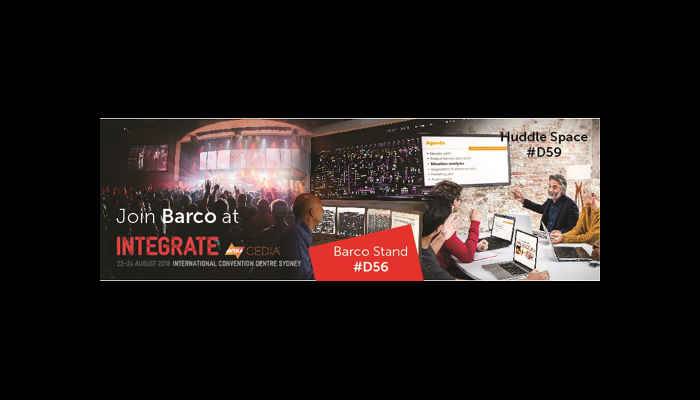 As an event geared towards cutting edge technology and industry developments, Barco will be participating at Integrate, feeling right at home highlighting Barco Solutions, as well as meeting with potential customers, integrators and distributors. Free meeting space and use of Barco technology at Huddle Space #D59

IntelliVision Adds Cloud Service to its In-Camera and On-Server Face Recognition
IntelliVision Technologies Corp. (IntelliVision), a pioneer and leader in AI/deep learning video analytics software for Smart Cameras, and now part of Nortek Security & Control LLC (NSC), has announced that the latest version of its facial recognition technology now runs as a cloud-based service as well as on edge devices and on-premise servers.

Yamaha Introduces the YVC-200 for On-the-Go Conferencing at Integrate 2018
The YVC-200 speakerphone is the ultimate portable device for exceptional communication for on-the-go workers. The compact device fits in the palm of the user's hand and is integrated with Yamaha's leading sound processing technologies, including adaptive echo cancellation, Human Voice Activity Detection that focuses the unit on speech rather than background noise.

VuePix and Infiled are Merging Brands for Oceania Region
VuePix and Infiled co-founders Cuono Biviano and Michael Hao announced the merging of the two brands to reflect their 9 year partnership, in order to strengthen the position in the Oceania region and to reflect their global reputation.

Bosch Delivers Music for McDonald's in China
McDonald's 'flagships' are the newest generation of burger restaurants, and they are 'Made in China'. They feature menu ordering, delivery to the table, a newly-integrated McDonald's App, WeChat applet member points, mobile payment and electronic menus.

New Flea Bazaar Café in Mumbai Features HARMAN Professional Solutions
Munro Acoustics recently deployed an end-to-end HARMAN Professional Solutions audio system at the Flea Bazaar Café, a first-of-its-kind dining and entertainment concept in the Lower Parel district of Mumbai. Owned and operated by Impresario Group, the 7,000-square-foot café features 13 separate restaurants, a marketplace for local lifestyle brands and a bar that serves local beers and craft cocktails.

Singapore's AIMS Productions Chooses Riedel MediorNet for Resorts World Sentosa Project
AIMS Productions, a Singapore-based visual production company specializing in multimedia for live events, has chosen Riedel Communications' MediorNet real-time signal transport and network technologies for a high-profile new ballroom project at the Resorts World Sentosa complex.

Shure Receives 2018 Global Excellence Award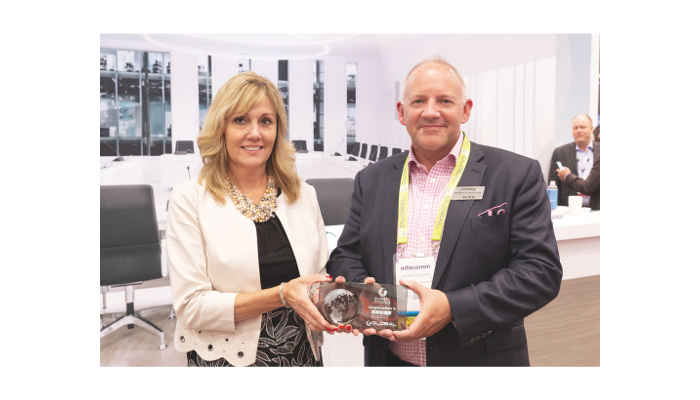 The Global Presence Alliance (GPA), the "Star Alliance" of the Integrated Audio-Visual Experience Industry, has again recognized Shure as a 2018 Global Excellence Award winner. As a reflection of the leading audio, visual, and UC manufacturers and vendors, the annual Global Excellence Awards honour vendors that exhibit the highest level of commitment to delivering superior experiences to GPA members.
B-Tech Bring Curve Appeal to Videowalls and Menu Boards
B-Tech AV Mounts, has released an angled bracket that allows for creative, curved installations using their renowned System X mounting technology. Named the BT8390-AAC (Angle Adjustment Connector), the bracket fixes between two System X rails to provide an angled joint. With angle capability up to 45°, the connector is ideal for assembling videowalls and menu boards in curved configurations.

Da-Lite Technology Workshop
Held at Singapore's Suntec Convention Centre, the recent Da-Lite Technology Workshop saw the introduction of the company's brand-new Ambient Light Rejecting (ALR) lineup, as well as a re-invention of an old design, the Fast-Fold NXT.