LDC, the private equity arm of Lloyds Banking Group, backing for the management buyout of Martin Audio from Loud Technologies has seen LDC invest £12m for a significant stake in Martin Audio. The decision is certainly driven by estimates that the global market for high-performance loudspeakers is estimated to be worth £1.1bn per annum and Martin Audio has a turnover of around £20m. Martin Audio is a renowned brand known for its quality speakers and hopefully being independent of Loud Technologies will allow the brand to further flourish.
Thomas Richard

Editorial Director

LG Showcases Commercial Display Technology at New Sydney Business Centre
LG Electronics Australia (LG) has re-opened its flagship LG Business Innovation Centre in Sydney's Surry Hills. The 198sqm Business Centre features an open layout that invites visitors and customers to experience what LG's premium commercial display technology will look like in their own business' environment.
Barco Innovations Dazzles Guests at Barco Night in Singapore
Guests filled the glamorous Post Bar at The Fullerton Hotel in Singapore on June 27 for Barco Night 2018. The evening lit up with exciting ProAV demonstrations from Barco. Partners and end-users came along to experience a showcase of the new products and upgraded features that keeps Barco solutions on the cutting edge, year after year—all while they sipped drinks, …

dnp launches next-generation Supernova XL
The original dnp Supernova XL Screen remains the world's largest optical front projection screen that's available as a single-screen solution, offering an excellent viewing experience and perfectly flat image. Now dnp denmark is proud to announce the next-generation Supernova XL, which delivers an even better picture.

LDC Backs Management Buyout Of Martin Audio To Drive Market Share
Mid-market private equity investor LDC has backed the management buyout (MBO) of Martin Audio, the designer and manufacturer of premium high-performance loudspeaker systems, from global audio specialist Loud Audio.

SPECIAL REPORT:

Russian Stadia Feature Tripleplay Digital Signage and IPTV Platform to Deliver World Cup Action for Fans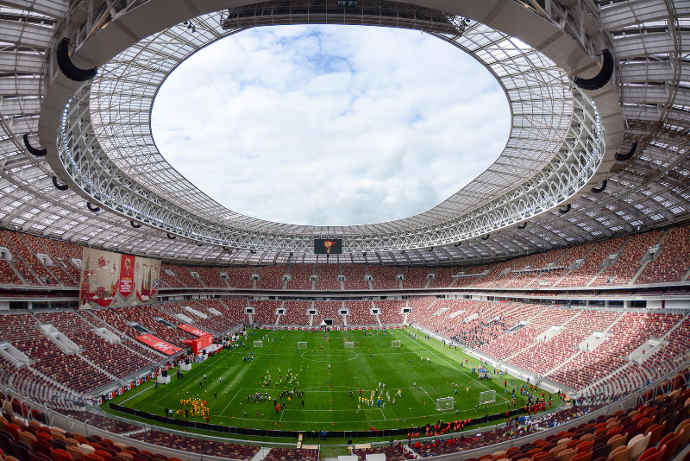 Tripleplay's IPTV, Digital Signage and HD Encoder has been installed at Russia's National Stadium, Luzhniki Stadium and Spartak Stadium (Otkritie Arena) and are delivering an improved fan experience and a modern fan engagement platform. Luzhniki Stadium, located to the south west of Moscow, has a capacity of 81,000, making it the largest stadium in Russia.
Sony Enhances the Power to Communicate with Exterity
Sony has announced the partnership between its Professional BRAVIA unit and enterprise IP video solution provider Exterity in Asia Pacific. The latest collaboration aims at revolutionizing the way enterprises connect through professional display solutions, pushing the boundaries of digital signage to discover innovative environments.

AV/IT End Users Gather in Hong Kong for Vega Solution Day 2018
Vega Global, a leading AV/IT System Integrator in APAC successfully held its 2018 Solution Day on, 31st of May at the Royal Plaza Hotel in Hong Kong. More than 70 end-users and key decision makers from different business sectors gathered to explore and advance the concepts that will revolutionize tomorrow's workplace.

ATEN Launches Industry Leading 18.5" Ultra Short Depth LCD Console
ATEN, a leading provider of IT connectivity and total management solutions, has introduced the first in its new series of 1U 18.5" Ultra Short Depth WideScreen LCD Consoles. The ATEN CL3800 features industry-leading 45cm ultra short depth and a unique dual-rail design, supporting all popular video input interfaces to ensure the maximum flexibility while saving valuable space.
The Global Presence Alliance Recognizes Leading Globally Capable Vendors
The Global Presence Alliance (GPA), has announced 9 recipients of its 2018 Global Vendor Excellence Awards. These awards are presented to the leading Audio, Video, and UC manufacturers and vendors as recognized through a formal member voting process evaluating more than 40 technology companies worldwide.
Atlona Holds Two-Day Technical Workshop in India
Atlona is amplifying its global On-Tour Roadshow Series with focused two-day events that emphasize live, personalized hands-on demonstrations for dealers, consultants and end users. The first of these enhanced "Zero to 60 Hz" events recently wrapped in Jaipur, India, with 35 attendees enjoying detailed demos and intimate Q&A's across dedicated time slots.